Serves 4-6; makes 16 sliders
For the sauce:
1/3 cup mayonnaise (Best Foods or Hellman's)
2 teaspoons finely chopped cornichons or gherkins (tiny pickles)
2 teaspoons finely chopped capers
1 1/2 teaspoons prepared horseradish (not cream style)
1/2 teaspoon BULL Cajun seasoning
1 scallion, finely chopped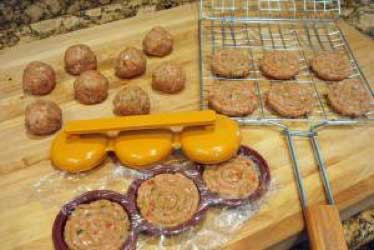 For the burgers:
3 strips smoked bacon
1/2 cup very finely chopped red onion
1/4 cup very finely chopped red bell
1 1/4 pounds ground turkey*
1 scallion, very finely chopped
1 teaspoon Louisiana-style hot sauce (Tabasco)
2 teaspoons BULL Cajun seasoning
1/4 teaspoon kosher salt
1/2 teaspoon freshly ground black pepper
For serving:
Slider buns
Shredded lettuce
Cornichons or gherkins (tiny pickles)
Cherry tomatoes
Sandwich picks
For the sauce: Stir together sauce ingredients until well combined.  Store covered in the fridge so flavors can meld until ready to serve.
For the burgers: Cook bacon until crispy in a medium skillet; drain on paper towels and then mince.  Drain all but 1 tablespoon of the fat; allow the fat remaining in the skillet to cool a minute before continuing or onions will cook too quickly. With skillet over medium heat, cook onions until they are a golden color; about 10-15 minutes.  Add bell pepper and continue cooking for another 2-3 minutes to soften. Transfer to a mixing bowl, add the bacon and cool completely.  Thoroughly mix in the turkey, scallion, hot sauce and seasonings and form into 16 balls the size of golf balls.** Flatten with the BULL slider press or by hand; they should be slightly larger than the slider bun.  I like to firm up the sliders a bit in the fridge for a few minutes while I set the grill up.
Set grill up for direct cooking over medium heat; be sure to clean and oil the grate.  Cook sliders directly on the grate or use the handy slider cage included in the BULL Slider Kit — 2-4 minutes per side or until cooked through; 5-7 minutes per side if making burgers.
Serve on toasted slider buns with shredded lettuce and a dollop of sauce. Spear a cherry tomato and cornichon on a sandwich pick and poke into the slider to hold it all together. Cheers!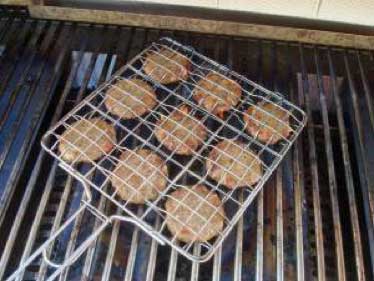 *Cook's Note: I prefer ground turkey that has both dark and breast meat for better flavor and moisture.  These sliders are great with ground turkey breast as well.
**Tip: Wet hands before shaping burgers so the mix won't stick.